BAGPIPE WORKSHOPS by Paul James.
I've been playing bagpipes since I was 17.  I don't know why. You either like them or you don't. I started on a set of Galician gaita and a 'Breughel' bagpipe by Herman Dewit. When I joined Blowzabella I began playing bagpipes made by Jon Swayne. I play mouth blown sets made by Jon in G, D, F and low C. I've tried to develop my own style of playing which reflects my passion for English and European traditional music and folklore. I also compose tunes for bagpipes which I use in my workshops. My workshops are about having fun learning new music and techniques and encouraging people to find their own style/voice. 
Bagpipe workshop / advanced and intermediate level
Using traditional and tunes I've composed in different styles and time signatures (for example: waltzes, polkas, bourrées, jigs, hornpipes, schottisches, folk and pop songs…) we will work together to make some arrangements for people to dance, listen or sing along to. Sometimes we'll concentrate on the melody, sometimes we'll work out other voices in harmony. We can also talk about technique and explore how to improvise and communicate emotion in music. The challenge with bagpipes is they are either "off" (silence) or "on" (making a ferocious noise!). How do we exploit that? The workshop is about everyone working together as a team, supporting and learning from each other – and laughing a lot.
What you need to bring: The course is for bagpipes in G (sol) – bellows or mouth blown – a conical chanter and half-closed fingering (or possibly with open fingering) which can overblow up to C (do). I play border bagpipes made by Jon Swayne which play well with many Flemish and French pipes of similar design. If you also have a bagpipe in low C (do), low D (re) or A (La) please bring it as this is useful for playing harmony voices. 
Absolute beginners workshop. How To Play The Bagpipes in 60 Minutes Or Your Money Back
This is for anyone who wanted to try the bagpipes but was afraid to ask. I'll work with you to conquer the problem of grappling with a bag with pipes sticking out of it to the point where you can play a few notes without passing out. Bagpipes provided.
Beginners workshop
The aim is to play some simple tunes and work on easy to learn fingering techniques (stopping, vibrato, sliding notes) as well as how to sit/stand/blow comfortably with the pipes in balance. For bagpipes in G only.
Individual tuition
I'm always happy to help anyone who wants to start learning or to improve on what they can already do. If face to face isn't possible then Zoom/WhatsApp/Messenger/Skype video is fine.
Workshops online
All my workshops can be done online as well as face to face using Zoom/Microsoft teams or whatever.
Contact me
pauljames.be@gmail.com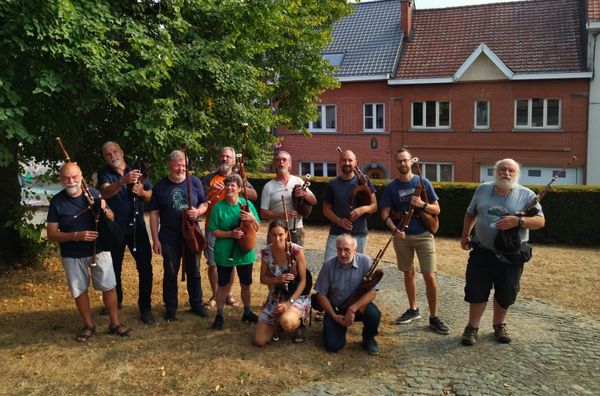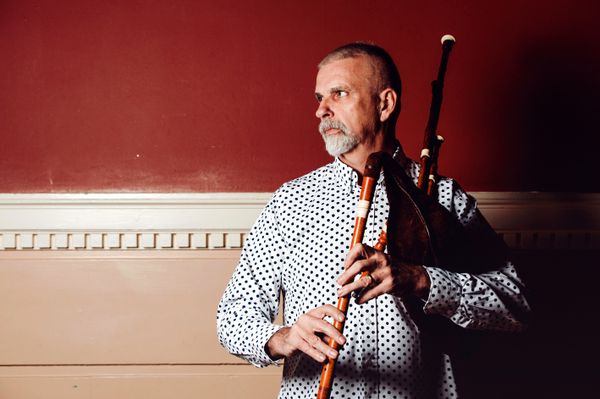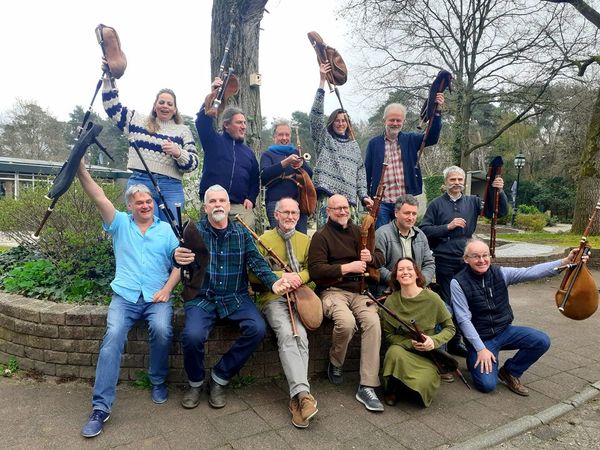 Séraphine / Pousse Partout. Two waltzes. The first was inspired by a film about the artist Séraphine Louis (Séraphine de Senlis). Bagpipes in G with 2 drones (octaves G) made by Jon Swayne.
The Black Mill & The Three Priests. Two schottishes (2/4 time). I played them a bit slowly to help anyone who wants to learn them by ear. Bagpipes in G with 2 drones (octaves G). The tunes are inspired by an historical event in Heuvelland, Belgium. In the 16th century, during the conflicts between the first protestants (Geuzen) and the Catholic church, the local people hanged three Catholic priests on the hill by a windmill (de zwarte molen) which no longer exists. By chance we discovered a picture frame high on the wall in Reningelst church which displayed the finger bones of the priests. Thanks to Rosalie Bosteels for telling me the story and for the loan of her bagpipes.
Falco. I composed this for English traditional dances that include a rant step. I play it slowly and also at the correct tempo for those who like to learn by ear. Bagpipes in G and in F made by Jon Swayne. It was partly inspired by the view from Combe Gibbet in England.