Threo
Paul James                  
bagpipes/doedelzak/cornemuse, saxophone/saxofoon.
Hilke Bauweraerts         
diatonic accordion/diatonische accordeon/accordeon diatonique.
Thomas Hoste               
electro-acoustic alto hurdy gurdy/draailier/vielle à roue.
Threo take a contemporary approach to traditional dance music with strong melodies composed by Paul James (saxophone, bagpipes / Blowzabella, Paul James & The Drowned Lovers), groovy harmonies from Hilke Bauweraerts (diatonic accordion / Hidrae, Marvara) and the driving rhythms of Thomas Hoste (electro-acoustic hurdy gurdy and sampling / Hidrae, Cecilia). They go from contemplative acoustic textures to full-on dance beats while leaving enough space to improvise in the moment. Playing as a trio is always fun and a challenge and everyone is equally responsible for creating a sound that is more than the sum of the parts.
Paul James  - doedelzak/cornemuse/bagpipe, saxofoon/saxophone.
Hilke Bauweraerts  - diatonische accordeon/accordeon diatonique/diatonic accordion
Thomas Hoste - electro-acoustic alto draailier/vielle à roue/hurdy gurdy
Threo (thrie-oh) is an old English word for 3.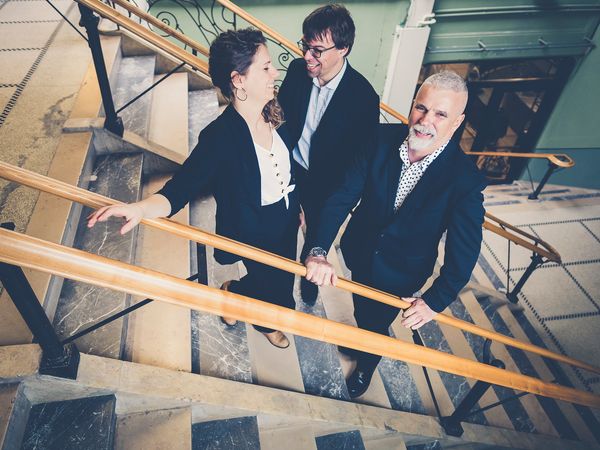 Paul James
Paul James is a saxophonist, bagpiper, singer and composer from England who makes music influenced by English and European folk/folklore traditions.  Paul is a member of the band Blowzabella and Paul James and the Drowned Lovers. He also composes and arranges music for theatre and leads ensemble/band workshops designed to get people playing together more creatively. Paul was composer and musician for the critically acclaimed production of John Milton's Comus - A Masque in Honour of Chastity by John Milton and Patrick Barlow directed by Lucy Bailey at Shakespeare's Globe Theatre, London in  2016. Reviews Independent Telegraph The Stage Evening Standard . Paul comes from Newbury, England and lives in Belgium. He has been playing traditional folk music since he was a teenager. Some of the tunes he's composed are "standards" in the modern British/European folk repertoire and are played by people all over the world. Initially inspired by a love of traditional English folk music and songs, he joined Blowzabella in 1980 and toured all over the world.  He organised their live appearances and recordings and was initiated and ran their music and dance workshop festivals/events. He formed folk / funk / new music band Scarp in 1991 with Victor Nicholls, Patrick Bouffard, Jo Freya, Martin Hughes and Luke Daniels. Scarp won a French World Music award for their album and Paul's composition "Goatkiller" was voted one of the top twenty tracks of the 1990s by the audience of BBC Radio 3's new music  programme "Mixing It". Paul's acoustic / electronic / dance-ambient album project "Horse" (2001) with composer Mark Hawkins featured Sheila Chandra, Eleanor Shanley, Luke Daniels, Nigel Eaton, Victor Nicholls, Kenny Stone and James Carter. Paul was invited to participate in two mediterranean music projects led by Maurizio Martinotti - "Viaggio di Sigerico" about the cultural exchanges through the pilgrim routes across Europe - with singer Lucilla Galeazzi, Jean Blanchard (La Bamboche), Carlos Beceiro (La Musgaña), Maurizio Martinotti (La Ciapa Rusa), Gigi Biolcati (Riccardo Tesi's Banditaliana) and "Pau i Treva" about the musical and poetic influences of Islamic culture in Europe with Catalan singers Jordi Fabrégas and Toni Torregrossa, Occitan singer Renat Sette and others. He formed the band in 2009 to play mostly new music inspired by European traditional music with Patrick Bouffard, Luke Daniels, Carlos Beceiro, Victor Nicholls and Gigi Biolcati. In 2013 he and Paul Hutchinson formed The Playford Libertion Front with Fiona Barrow, Karen Wimhurst, Victor Nicholls and Chris Green to put some fresh energy into the interpretation of the many fantastic English dance tunes published in London by John Playford in the 17th century. In 2019 he formed Paul James and The Drowned Lovers with Victor Nicholls, Jo Wadeson, Fiona Barrow and Emma Holbrook, initially to play the music from his solo album live. Paul has also composed music for television, radio and the theatre and appears on albums by other folk, world music and rock artists. He plays border bagpipes in G, F and D made by Jon Swayne and a Selmer Mk VI soprano saxophone.
Hilke Bauweraerts
Nederlands
Door het opgroeien in een muzikale familie werden Hilkes muzikale oren al van jongsaf aan gevoelig gemaakt voor muziek. Het kon niet anders dat haar roots haar zouden leidden naar het zelf beoefenen van muziek. Zij begint haar muziekstudies aan de muziekacademie van
Schilde en nadien de kunsthumaniora van Turnhout. Daarna volgt zij de masteropleiding 'muziektherapie' aan het LUCA School of Arts, campus Lemmens. Alhoewel zij reeds van kindsbeen af allerlei instrumenten beoefende, was het de diatonische accordeon die uiteindelijk haar hart wist te winnen. Op 16-jarige leeftijd begint ze zich als autodidacte te wijden aan deze grote liefde. Om een nieuwe wind in haar speelwijze te
blazen, volgde ze stages bij Didier Laloy, Anne Niepold, Martin Coudroy, Simone Bottasso, Stéphane Milleret, Aurélien Claranbaux en Emile Verstraeten. Hilke speelt op een instrument van de Franse bouwer 'Bertrand Gaillard'.
Hilke betrad verscheidene podia met haar eerste folkgroep 'Sakura', met wie ze de wedstrijd op het Lindeboomfestival won en in 2011 een cd uitbracht. Met Duo Brabants Bauweraerts heeft ze ook jaren opgetreden. Hilke is een creatieve muzikante/componiste die niet
afschrikt van een portie durf en die alles uit de kast zal halen om ervoor te zorgen dat de nummers met de juiste energie gespeeld worden.
Momenteel is zij actief in Hidrae (CD 2020), Marvara (CD 2021), Threo, Duo Bauweraerts Van Hees (CD 2017), theatergezelschap Tal en Thee, … . Daarnaast geeft ze les in de academies van Herentals en Mortsel en op de kunsthumaniora Musart! te Hasselt. Daarnaast
maakt/geeft zij workshops voor de KIDconcerten van Antwerp Symphony Orchestra en gaf ze les op de folkstage van Kalmthout & Gooik en voor de organisatie Wisper.
Engels
Hilke grew up in a musical family and was smitten with folk music from an early age. It was inevitable that her roots would lead her to begin practicing music herself. She started her musical studies at the Academy of Music in Schilde, which later on was accompanied with
the Arts School in Turnhout. After that she obtained a master's degree in "music therapy" at the LUCA, School of Arts, campus Lemmens Leuven. Although she has practiced numerous instruments since childhood, it was the diatonic accordion that eventually won her heart. At the age of 16 she devoted herself to this great love as an autodidact. To open up the potential of her playing style and let in a fresh breeze
of inspiration, she followed workshops from Didier Laloy, Anne Niepold, Martin Coudroy, Simone Bottasso, Stephane Milleret, Aurélien Claranbaux and Emile Verstraeten. Hilke plays an instrument by the French builder Bertrand Gaillard.
Hilke appeared on several stages with her first folk group Sakura, with whom she won the competition at the Lindeboom festival in northern France and released a CD in 2011. With Duo Brabants Bauweraerts she also performed for many years. Being a creative and
composing musician, she doesn't shy away from giving it her all to make sure that the music gets the energy it requires. She is currently active in Hidrae (CD 2020), Duo Bauweraerts Van Hees (CD 2017), Marvara (CD 2021), theater company Tal en Thee, Threo, … . Hilke also teaches different courses at the Music Academy of Herentals, Mortsel and Deurne and the Art School Musart! in Hasselt. Besides that she gives/makes many workshops for the KIDconcerts of Antwerp Symphony Orchestra and she gave folk workshops in Kalmthout and Gooik and several other workshops for the organisation Wisper.
Frans
Elevée au sein d'une famille où la musique est omniprésente, Hilke a pu développer dès l'enfance son goût et son intérêt pour la pratique musicale. Ses racines l'ont menée naturellement vers des études musicales. D'abord à l'académie de musique de Schilde, les humanités musicales à Turnhout, ensuite à la LUCA School of Arts, campus Lemmens où elle a obtenu un master en musicothérapie.
Multi instrumentaliste dès son plus jeune âge, c'est néanmoins l'accordéon diatonique qui est devenu son instrument passion qu'elle étudie en autodidacte à l'âge de seize ans. Elle s'est perfectionnée ensuite en suivant des stages auprès de Didier Laloy, Anne Niepold, Martin Coudroy, Simone Botasso, Stéphane Milleret, Aurélien Claranbaux et Emile Verstraeten. Son instrument est de la main du facteur français Bertrand Gaillard.
Son expérience de la scène commence avec son premier groupe "Sakura", formation qui a gagné le prix du festival Lindenboom en 2011 et produit le CD "The Bea(s)t Inside". Elle s'est produite plusieurs années avec Duo Brabants Bauweraerts. Hilke est une musicienne créative et compositrice qui aime les défis et fait tout  pour donner à chaque pièce une juste énergie. Actuellement, elle joue dans Hidrae (CD 2020), Duo Bauweraerts Van Hees (CD 2017), Marvara (CD 2021), compagnie de théâtre Tal en Thee, Threo, ... . Elle enseigne aux académies de musique d'Herentals, Mortsel et Deurne et aux humanités musicales Musart! à Hasselt. Hilke donne aussi des ateliers pour les KIDconcerten de l'Antwerp Symphony Orchestra, ainsi que des stages de musique folk à Kalmthout et Gooik ainsi que pour l'organisation Wisper.
Thomas Hoste
Ever since the hurdy-gurdy crossed his path, Thomas has been enchanted by the rich tunes of this unique instrument. His love became a passion. Thomas attended intensive workshops and training programmes both nationally (Martina Diessner, Iep Fourier, Hans Quaghebeur…) and internationally (Gregory Jolivet, Gilles Chabenat, Isabelle Pignol, Valentin Clastrier…). Some years later he knocked at the young folk band's door himself. Now he tours throughout western Europe with the established Bal Folk formation called Cecilia and since the summer of 2013 with the promising young band Elanor as well. From spring 2018 onwards, he gives a traditional touch to the large-scale project FolKK (Folk meets KleinKunst), a cooperation between Nekka & MuzMoz with Walter Evenepoel as the force behind. Very recent he became the regular hurdy-gurdy player in Hidrae. Furthermore he is a popular guest musician in several ensembles. On account of his background in IT, he manages to combine ancient tones with the most modern sound techniques. This recently resulted in a new drone project duo mOthA (wih Maarten Marchau). Thanks to mOthA, he was able to join the project "Rooted: The Manen Opzij", a production from the Dranouter Music Center in which two musicians who are involved with folk / traditional music in an innovative way are confronted with two equally innovative musicians from different musical directions. More, Thomas has over time been teaching his instrument among others at "Draailier & Doedelzak" (Netherlands), at vzw Westelfolk as well as academies in Dranouter, Gooik & Gent.